Download: "Six Costly Mental Game Mistakes
Golfers Make During Their Preshot Routine."
Download your free report now by right clicking on the button above and "save as" to your computer.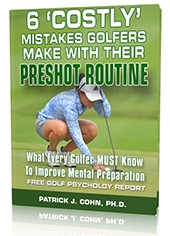 We'll also send you email tips to boost your mental game in golf– about once a week. You can opt out at any time.
If you enjoy the free report, check out The Golfer's Mental Edge CD program. See details below.
Thank You,
Patrick J. Cohn, Ph.D.,
Golf Mental Game Expert
P.S. You will need Adobe PDF Reader to access my report. You can get it at adobe.com for free if you do not have it.
---
"Discover Mental Game Strategies That
Junior, Collegiate, and Pros Use to WIN!"
Exciting Golf Confidence CD and Workbook
Program Teaches You How To Think Like a Pro!
Dear Golfer:
I know you are reading this letter because you understand how important a strong mental game is to your performance and fun on the course. Too often, I hear golfers say things such as…
"I can't have fun because I never play up to my expectations."
"I start playing well and then I play too defensively and give it all back."
"When I hit bad shots I lose confidence so quickly."
"My swing feels so tight and controlled on the course."
"I get too frustrated with hitting bad shots and it snowballs."
These golfers suffer from…
Fragile self-confidence after miss hits
Playing with strict or high expectations that undermine confidence
Inability to play freely and relaxed on the course
Lack of emotional control or composure if not playing well
And being held back from shooting low score by their "comfort zone"
What's the one big sign that your mental game is the weak link in your golf game?
When you can't play consistently as well as you can perform in practice!
If you suffer from low self-confidence, lack of focus, or other mental game obstacles on the course, you can't reach your true potential in golf.
Read more about The Golfer's Mental Edge…