"6 'Costly' Mistakes Golfers Make
With Their Preshot Routine"
Thanks for Requesting My FREE Golf Report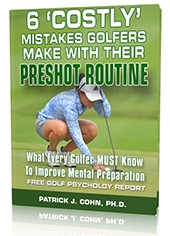 You are just one step away… to accessing proven mental game tips that will help you improve your preshot routine in golf!
Shortly you will receive an email from us asking you to confirm your eBook request (if you have not done so previously).
Please check your inbox for an email from: mentalcoach@peaksports.com
If you don't get the confirmation email (or the link to the free report) immediately from us, here's what you can do:
Wait a few moments–sometimes the email is delayed up to 20 minutes.
Check your spam folder–not all email goes to your inbox.
Attempt to sign up again.
Try another email–some email providers don't deliver all their email.
Just click the link in that email we sent you and you'll receive the link to download your golf report immediately!
Note: Please email Monique at monique@peaksports.com or call us at 888-742-7225 if you do NOT get an email from us with the e-book.
WHILE YOU WAIT FOR YOUR CONFIRMATION EMAIL….

Receive more tips on how improve your mental game in golf!